The Most Popular 2021 Ford Bronco Colors
The release of the new 2021 Ford Bronco colors has future owners excited and this has generated quite a buzz. Some of the available paint colors for the 2021 Ford Bronco are also available for the Ford Bronco Sport model.
As the new colors freshened up the Bronco's palette, our eyes were hooked on the fantastic, rare shades. However, when choosing the base color for your 2021 Ford Bronco, let me tell you that not all paint colors can suit every trim option.
If you are looking for the best Ford Bronco colors, you might want to go through our article. Here we have shared what future Bronco owners would love to choose as a color for their vehicle. We also share our favorites from the all-new palette of the Ford Bronco.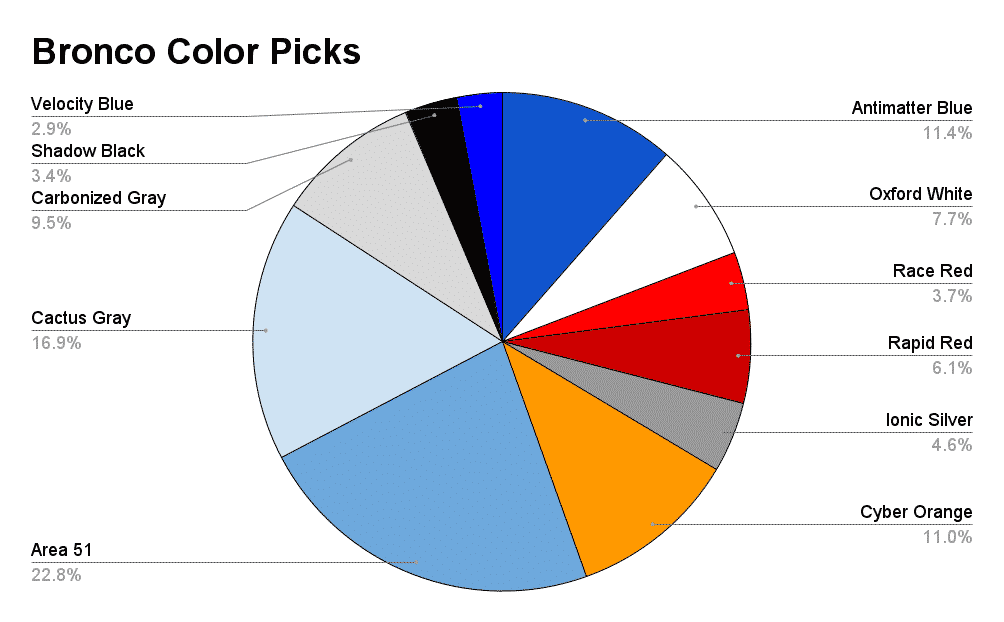 Among the respondents of the survey, this pie chart clearly shows the most popular picks. At number one, the Area 51 color leads the way while the least chosen was the Velocity Blue color palette. Almost one-fourth of the votes were for the Area 51 color and maybe because it offers a more fitting and more unique look compared to other SUVs from other brands.
The classic Ford Bronco can be what you want it to be. You can almost use your Bronco as an off-road car, a truck, or a car you drive with style.
This particular vehicle was introduced with a fantastic array of shades and designs. Are you looking for some classic shades for your 2021 Ford Bronco model?
You might want to read this article. Here I have shared some of the vintage shades available for your Ford Bronco. 
Ford Bronco Colors Ranked by Customers
#1 Area 51
Coming in as the most popular among all the options. Looking for something in gray? The all-new Area 51 is one of the most hyped colors of the 2021 Ford Bronco new shade launch. The Area 51 shade was first released in the First Edition of Broncos, followed by Badlands, Wildtrak, Outer Banks, and Big Bend.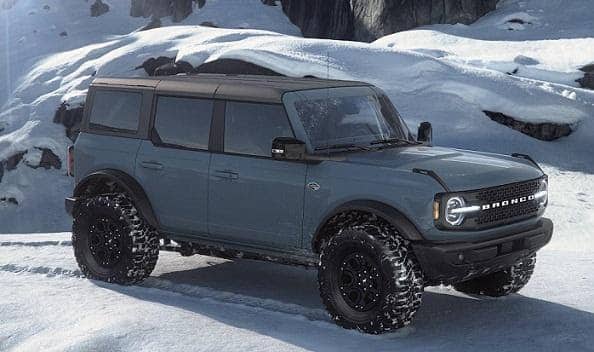 We all have heard of Area 51, a secret military base located in the middle of a desert, Nevada.
This shade looks nowhere near the desert lands, but this Area 51 shade is another shade of blue that is shiny and amazing on the street.
This shade is pretty uncommon, and it has an iridescent undertone that makes this 2021 Ford Bronco color so special.
#2 Cactus Gray
There's always something special about greenish hues, don't you think? The Cactus Gray does just that. Going by the name, it's no surprise that this gray has a soothing greenish hue to it.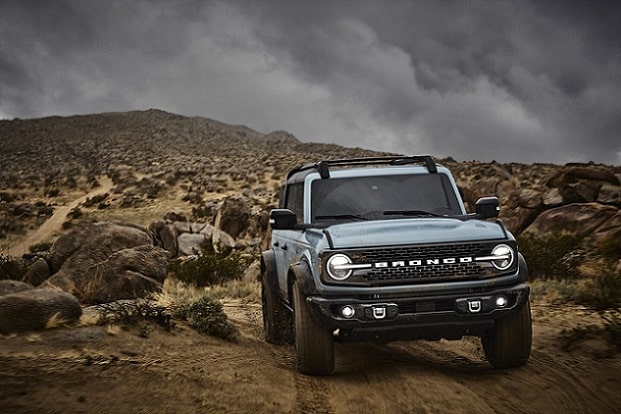 The Cactus Gray is also one of the most desirable shades for the Ford Bronco exterior. However, this shade of Bronco is special. This shade has a slight blue undertone which is seen when light falls on it.
The shade entirely depends on the lights around your Bronco. When standing in the shade, your Bronco will appear off-gray, but it will appear close to sea-foam blue when light falls on it.
#3 Antimatter Blue Metallic
So, why does Ford like to call it Antimatter Blue Metallic? That's because every time it's out in the light, it shows off the rich color and a magnificent sparkle.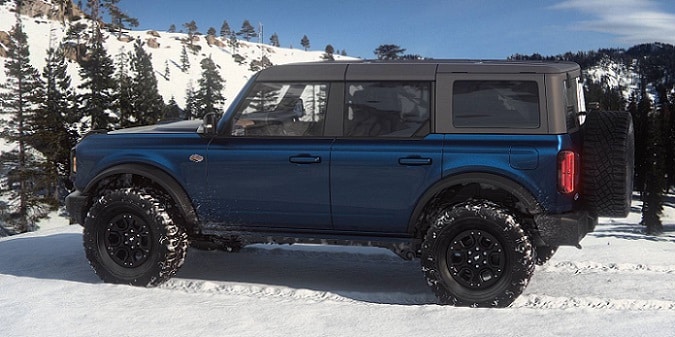 The Antimatter Blue Metallic is also from the list of modern-day classic shades for Ford cars and trucks. Over the years, this particular shade has been used on Ford Mustangs. So, you would not be surprised if I tell you that your Bronco can avail this shade. Yes, the 2021 Ford Bronco is not an exception.
This shade comes from the Big Bend, Outer Banks, and the Badlands.
If you get to see a Bronco with an Antimatter Blue Metallic shade, you are going to have a hard time trying to ignore it. This is because this shade has reached a high intensity. Due to this, people find it hard not to look at it.
We recommend building the exact style as we know that these 2021 Ford Bronco colors go well with black accents and black roofs.
#4 Cyber Orange Metallic Tri-Coat
At number four, the Cyber Orange is one of the original shades of the Ford Bronco. However, it looks entirely different when applied to a Bronco. This shade of orange seems pretty bold.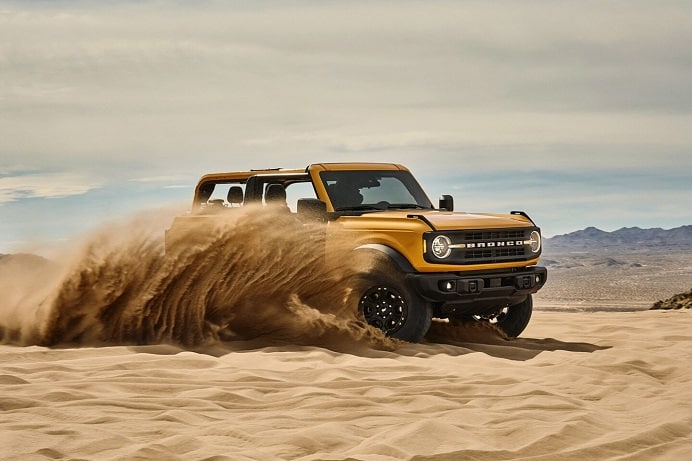 The Cyber Orange is similar to the Bold Orange shade, but I find it better as it has a metallic touch.
The bold shade of orange is pretty cheerful and easy on the eyes. This color has a bold touch to it but looks amazingly soft, which makes it so appealing.
#5 Carbonized Gray
This is the fifth most popular among the 2021 Bronco options. Want something metallic and super-sporty? The carbonized gray is quite the bold color with an unmistakable metallic hue.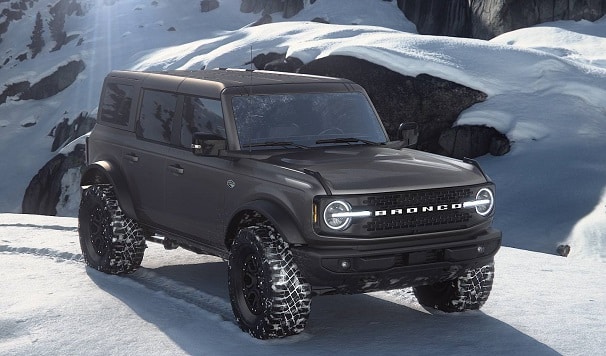 The carbonized gray shade was released after the First Edition series. The carbonized gray is a mix of black and gray and forms this black-ish gray color.
Compared to Raven and Shadow black, this shade does not have much intensity, and it showcases a light black undertone with a metallic touch to it.
Due to this metallic touch, this shade appears pretty shiny both in light and in the shade. This shade is majorly seen on pickups trucks and SUVs from Ford.
#6 Oxford White
The Oxford White is a classic shade of white. This shade is similar to cloud-white. However, the Oxford White has a grayish undertone that makes it look modern.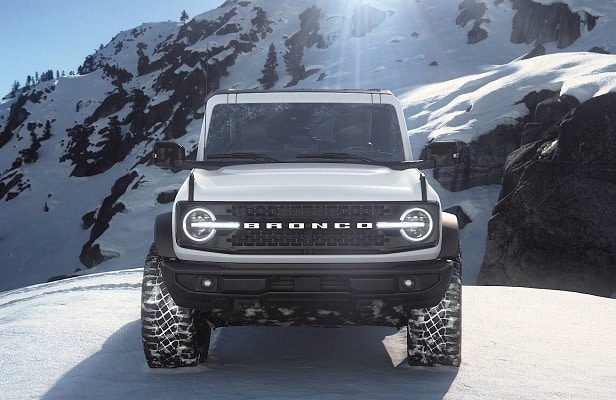 This shade has a tint of blue or green, and its appearance entirely depends on the lighting. On the other hand, the Oxford White looks very clean and bright.
If you get this paint on your Bronco, with a black roof and accessories, it will look no less than a classic.
#7 Rapid Red Metallic
If you happen to be a Ford enthusiast, then you probably have an idea about this shade. Yes, the Rapid Red Metallic is considered one of the classic shades for Ford automobiles. There are way too many Mustangs on the roads with this shade to not notice.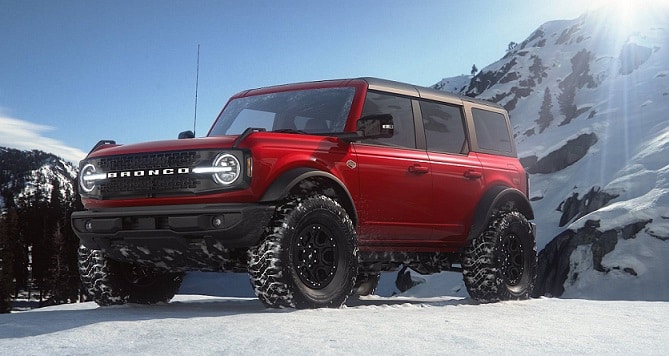 Rapid Red Metallic is one of the best shades by the Wildtrak and Badlands series.
This rapid red shade signifies speed, but it is better that you do not cross it.
This classic shade is considered timeless and looks great if you preserve it and looks good with black accents. This is one of the most appealing 2021 Ford Bronco colors.
#8 Iconic Silver
Looking for a color that's available across trim levels with no additional costs? The Iconic Silver should be your choice. This shade has been used on Ford vehicles for many years and on many different cars.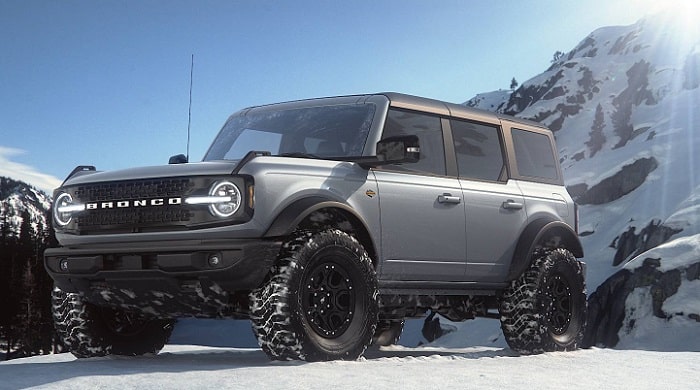 The iconic silver has remained one of the most desirable shades for Ford vehicles. The Iconic Silver has a metallic undertone that gives your Bronco a muscle-y and sleek body.
The particular shade was released in Badlands, Wildtrak, Outer Banks, and Black Diamond series. This shade looks excellent with a raven or shadow black roof and black engine accents.
#9 Race Red
Don't confuse the race red shade with rapid red? The basic difference is that rapid red is a much darker and deeper shade of red and is metallic, which the race red isn't.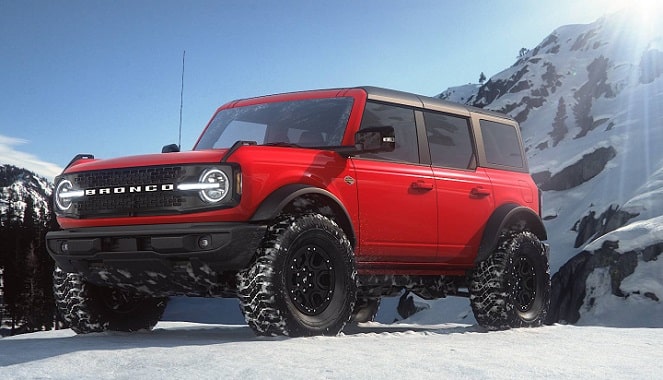 This shade was released after the First Edition series. Its also a very popular color on the new Ford Raptor. Its somewhere between a red and an orange color.
This shade of Bronco has an intensity that attracts people. This shade is similar to the classic Candyapple shade of Broncos.
With a combination of black accents and a red shade, the 2021 Bronco looks gorgeous and bold.
#10 Shadow Black
When all the talking is about modern-day classic shades for the 2021 Ford Bronco, can we really miss the Shadow Black?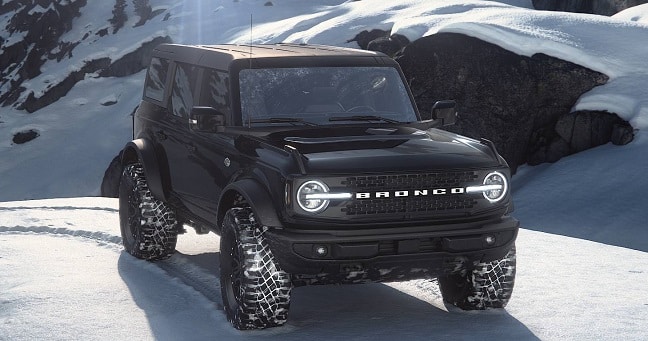 The Black is also a great shade from the Outerbanks, Badlands, and Wildtrak.
The raven black shade is a dope shade that goes along with any vehicle, a sedan, or SUV. This shade unleashes the spirit of the speedy and classic Broncos.
As the bright shades do not compromise with the looks of Bronco models, this dark shade reflects and highlights the slimmer look of the 2021 Ford Bronco.
The Shadow Black adds a different charm to the 2021 Ford Bronco and makes it look even sleek, and if you want to see a sleek-muscle-y four-wheeler, well, get this shade.
#11 Velocity Blue
The velocity blue is a modern-day classic shade from the Black Diamond and Wildtrak series. So, what does the name suggest? Indeed the super-powerful ride in a brilliant blueish hue.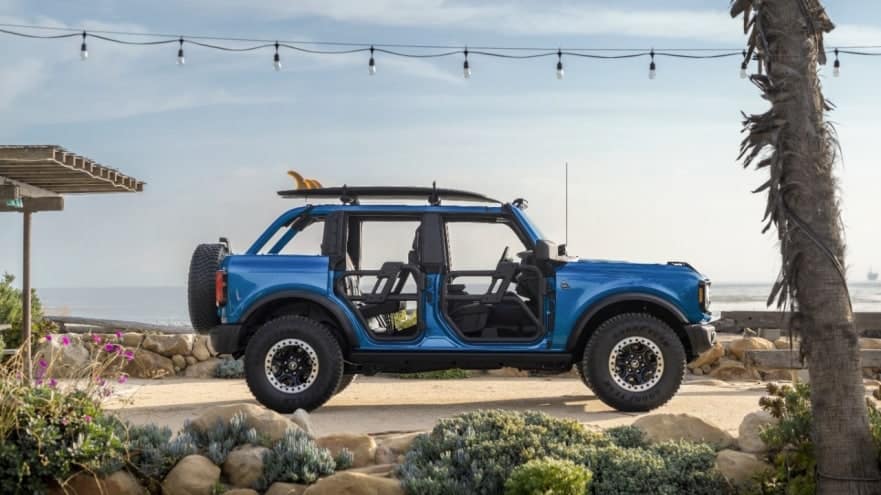 When the list is about the best shades of the 2021 Ford Bronco, it would be very unfair we miss this shade from the count.
This shade has a dense saturation, or you can call it a mix of blue and ocean blue. Also, this shade looks pretty oceanic and has a touch of candy color.
If you have a 2021 Ford Bronco, this bold shade can be a great pick, and this will look even better if you add this shade with some black accents and a black roof.
Conclusion
I see you have read this article till the very end, so how was our guide?
I hope this article reduced your stress and saved your time. So, what shade did you choose, the Rapid Red or shadow black?
This write-up contains the best and classic shades for your Bronco, and I hope you have figured out your choice. Just like with the Bronco Sport, the 2021 Ford Bronco colors offer a lot of variety and that benefits everyone.
Well, now it is time to dominate the roads with your 2021 Ford Bronco. Good luck!
Our Favorite Ford Bronco Colors
It is hard for me to choose the best color because these are the classic shades you can ever have. But, I have to do it for you, and I have come up with my best choice.
Im a big fan of the new Area 51. It's a new color ford is pushing on a number of their new vehicles, But after seeing a number of these colors in person Oxford White is favorite because its more a a muted white and not Soccer man van bright and you don't see this hue on vehicle much. Hence, I choose the Oxford white as my best pick among all the 2021 Ford Bronco paint colors.